Recently Josh Tetric 34 years old CEO of Hampton Creek company, a San Francisco-based food technology startup's was successful in attracting the investment $ 30 millions from worlds billionaires in the field he had no experience of.
He chose the field of manufacturing eggless products in plant based environment. Everybody wants clean and eco friendly products in todays milieu. First to invest was Microsoft's Bill Gates followed Asia's richest, Li Ka-shing, as an investor. Yahoo's Jerry Yang came in join the investors' pool.
Josh had been working in the UN mission for sub Sahara region.The life was stale and monotonous.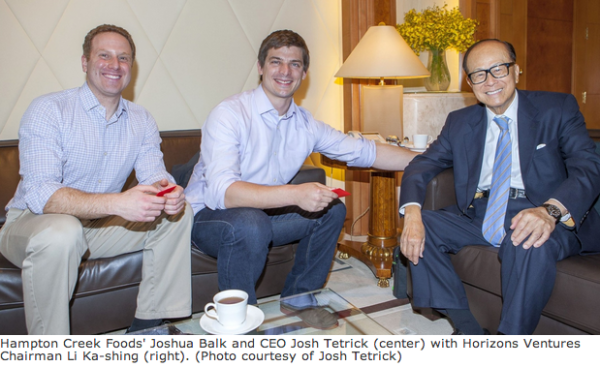 The idea to manufacture eggless Mayo & cookies during a conversation with a friend. He commenced his research of producing the egg-free food alternatives like mayonnaise and cookie dough. He made it a point to meet chefs of food industry. He talked for hours with concerned experts and then hired bio-chemists and food scientists. It took him a year to understand the concept of how to make the eggless products. He is so confident to replace the multi – billion dollars worldwide egg – industry with plant based eggless recipes.
Tetric was able to see through that opportunities awaited eggless products were need of the times, specially during the avian flu viruses which affected the Chinese subcontinent.
Horizons Ventures, a Chinese giant in eggs and chicken industry Chairman Li Ka-shing was contacted through his friend Sonny Vu. Li Ka-shing was convinced by gong into eggless products there lay the opportunity to diversify and help the Far east areas and mitigate the health risk involved for the populace. Chines farmers were contacting Horizon Venture for producing yellow peas and other varieties of plants.
Allin all Josh Tetric is well on way to make a history pretty soon.