There are many benefits of the cycling. First, it is environmentally friendly. Second, using bicycles saves fuel. Third,  the best use is that the health remains good.There are many busy cities in the world  where moving on bicycles are within the traffic rules. People follow these rules prudently. There are cycle stands where from people leave and bring the cycles. 
New York, USA.
New York, USA is the busiest American city. City bicycles service was launched by Citi Bank. It sponsored this program on the Memorial day in 2011. In Manhattan and Brooklyn, there are 339 cycle stands and thousands of bicycles.
London, Great Britain:
Boris Johnson, Mayor of London provides many public facilities and of them is making available bicycles for public. He commenced the scheme to provide for public use bicycles. These cycles are called as 'Boris Bicycles'. The public is much relieved from never ending traffic jams. There are over 400 stands and 6000 cycles available for this purpose. Often, Crown Prince Williams and Catherine are seen riding these cycles.
Barclays Cycle Hire, London, UK started in 2010, Photo source :Wikipedia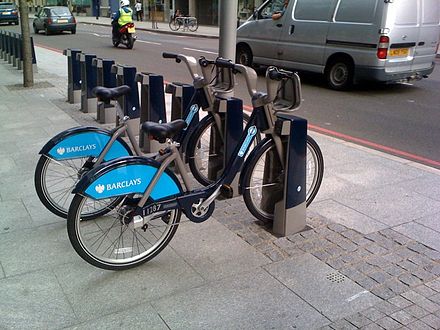 Paris, France:
In 2007, the Vélib Bicycle service was started in the French capital Paris. There are more than 20000 bikes and 1800 cycles stands. World's largest cycles service is provided here at a nominal rent. This program is sponsored by "the town hall and Ad group J C Dekoks. The credit of success goes to this Public and private partnership.
Paris : Vélib Bicycle service
Photo source : Wikipedia
Portland, USA:
The bicycles lovers of this city far exceed in number more than Paris and Amsterdam. Even the city police use cycle while proceeding on their public duties.
Stanford University, USA
Stanford university is famed to have promoted cycling on its very large campus. There are approximately 20000 students and 15000 cycles users there.