Cancer Teen Raises Over £1Million:
Britain's nineteen years old Stephen Sutton never realized that just one appeal for donation will gather him 3 million pounds in a short time. Stephen had posted final goodbye thumbs up to his friends on the Facebook. He had been fighting with cancer since last two years.One of his lungs had stopped to work due to a tumor. He got admitted for getting the treatment. During these days, his story had gone viral on the Facebook and other websites.
Photo source: Dainik Bhaskar
He had asked his friends to raise the amount. He wrote that he had known that a significant amount of money for the treatment had to be arranged. He thought that they should do such a thing so that anybody needing funds should never be short of money. He had known "Teenage Cancer Trust" was able to collect half a million Pounds.
On his appeal " Just Giving" had collected three million pounds. Over a hundred thousand, donors had contributed the funds. Stephen said that he had felt that he will not see such a day, but he was very happy and felt as if he had received a second life.  Till 02 May 2014  total funds raised through 132,117 donations £3,171,181.28raised of £1,000,000.00 target. Which is 317% above above the target


Shocking Cost 2600 Pounds To Download Music through Mobile 
Katy Brown (43) lived in Southern Warwickshire had been to South Africa. She had downloaded "best of Neil Diamond"  It cost 8.99 pounds per MB on iTunes. She had not known that data roaming could be very costly and came to know the shocking news to pay more than 2600 pounds from her account.
Mobile operator Orange charged her 8.99 per MB. She had been to Kruger National Park in South Africa with friends. It is common to hear music while traveling and she downloaded the music of Neil Brayan and got the shock of her life of paying so dearly on her return to U.K.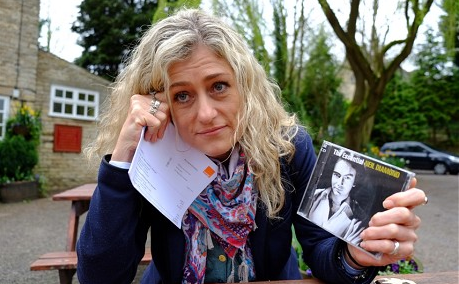 PHOTO SOURCE: DAINIK BHASKAR
The mobile operator' Orang'  later reduced the cost to Pounds 400 on her pursuing the matter thus reducing the cost by £2,209.31.