The American media is in the midst of shameful and weird debate. It has linked unborn child to Chelsea, daughter of Clinton to Hilary Clinton 2016 presidential election.
Most of the American media is discussing the effect of the unborn child on 2016 elections of Hilary Clinton chances of winning. The media believes that the child to born will contribute votes to Hilary election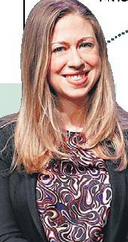 Chelsea Clinton in Focus 
Photo Source: Dainik Bhaskar 
The Washington Post
The Washington Post appealed people to suggest names for the unborn child. The paper says, may be your name suggested could be the President of the USA in 2052.
New York Post:
New York Post columnist Kyle Smith, has written a letter to the fetus that may be you will campaign for grandmother's 2016 election while sitting in Grand mother 's lap. But on growing up ask for your right. May be you are third of fourth generation Clinton to rule over in the US.
The Christian Science Monitor:
The prominent daily speculated if the Chelsea Clinton baby might make Hilary's fewer chances of the running for the presidential race.
Fox News:
In the program 'Media Buzz' guests were discussing whether the child was pre – planned. Hilary Clinton will be too old by the time the kid grows up.
The speculations are all over as to how the chance to run for president affect Hilary's nomination. In case she does not run, there are eight other candidates who would like go in for the race.
In 2010, Chelsea got married to Marc Mezvinsky. She recently told Glamour magazine that they were planning for a child in 2014. She added that 'Glamour' might tell tell the news to the grandparents as they were inquiring about this every single day.
https://www.youtube.com/watch?v=PMM6ltBIFJQ