John Hancock Center building has a tilting balcony in Chicago is much in the news these days. The builders wanted to attract visitors to do something different from others.The building has a unique feature for its popularity due to the tilt-able balcony on the 94th floor.
The balcony bends 30 degrees from its normal horizontal position. A beautiful bird's eye view of the city available from its bent position at 1000 feet height. This balcony is of a rectangular glass shape and has railings to be held by eight persons at a time. By and by the balcony starts bending down towards the ground. Here it is the first time, that the idea of tilt balcony got used anywhere in the world.
On the inauguration day May 10, 2014, VIPs and media were invited to witness the event.
Engineers assure public at large that the box is safe and has adequate safety precautions taken. The safety standards are in no way compromised taking care the impact of winds at that height.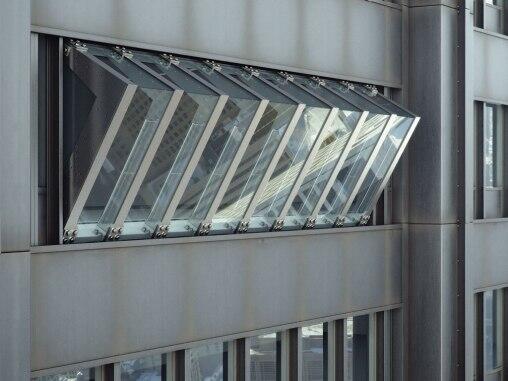 Photo source: Twitter
It took over a year to instal the box cabin with full three layers of toughened and tempered glass used. The idea to use this tilt came from the "ledge' used in "Willis Tower".
The visitors pay $ 5 per minute for each operation plus $ 18 to get to the observation deck. Eight persons can stand to look at a time. The mind boggling view will remain in your thoughts for a long time to come. The fear of height vanishes as one sees the arrangements made and also the number of the persons visiting is assuring that nothing needs to be worried about.
Watch the Tilt Box sliding with the link given underneath.