If you want have mid air lunch; it is possible. You can have sky lunch in 40 countries at 164 feet height.
An event management company in Brussels has come out with such an offer. In one go, 22 persons and three staff members can be accommodated. The team includes Chef, waiter and an entertainer. The chef will changed for new dishes every few days.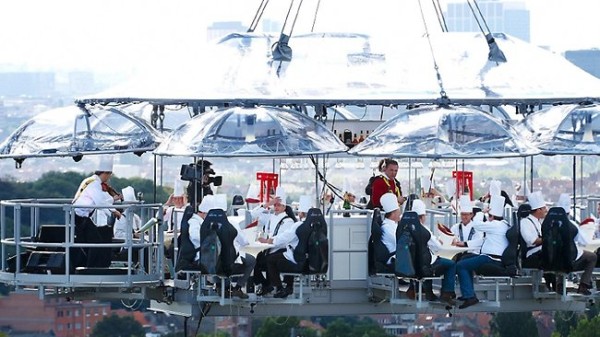 Picture: dinnerinthe sky.com Source Supplied
– Besides Brussels, this facility is available in Brazil, Monaco, Mexico, Las Vegas (USA), Barcelona, Beirut( Lebanon).
– Your lunch experience at such a height is as if you were having the food on the Eiffel Tower.
– Such a lunch or dinner on a mountain or at seashore will remain an unforgettable experience.
– The dimensions of the platform is nine meters by five meters
– The meal has the chair like a seat in a racing car with a safety cable.
– There is safety cum security check up prior to the event. Each session is of eight hours duration and is adjustable as desired by the guests.
You may reserve the whole platform and have to pay US $ 20500. For a change, you need is to call up and ask for sharing the table with others at a price $360 per seat.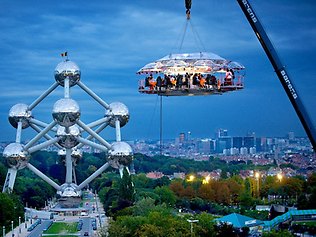 Picture: dinnerinthe sky.com Source Supplied
All this has been possible due to demand of a new generation of taste coming up. The mood is for a change in new ways of looking and celebrating of occasions. The midair meal is a year long programme by the enterprising Belgian tourism industry. The floating restaurants on river or sea are well known in the West, but floating mid air is innovating and inviting something new.