John Michael Green, when he reached the sets of 'The Fault in Our Stars' book written by him, all the unit crews' attention was diverted to him.
The hero, heroine, film director and all others were happy. Green is the writer of the five bestselling novels authored by him. He is a celebrity on the internet as well and has a vast empire in the social media. He has over 2 million subscribers on the YouTube. On Twitter, he has 2.4 million followers. He is more popular than many film stars in the film industry.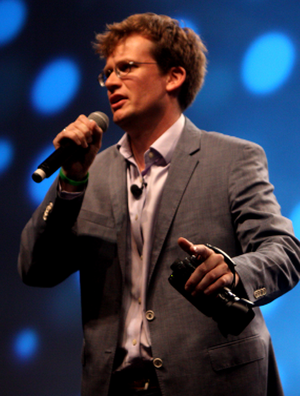 Photo source: Wikipedia
As Green is a different kind of writer, so is the book, The Fault in Our Stars is little different kind of story. This story is based on his 5 months' real experience in Children's hospital. The story was written under the influence of Esther Earl a teenage girl suffering from cancer.
The story revolves around teenage love sprinkle, so fresh and unique. The boy Augustus Waters falls in love with Hazel Grace; both are cancer patients. They are able to continue their romance and able to make a trip to Amsterdam. Hazel's mother is in tow. The trip is made because Hazel wants to meet an author Peter Van Houten. In the final pages, the boy dies of reoccurred cancer and the girl stays with him till the very end.
Green was unwilling to part with his story ' The Fault in our stars' but agreed and reluctantly sell the story rights of the book to producers Vik Godfrey and Issac Classner, who expressed their wish to shoot such a film.
Over 17 million copies of ' Fault in our stars' have been sold and is on top of the best selling books list for over 77 weeks in " The NewYork Times "