Any photo shoot is not without problems. If you have the right planning, vision, schedule, team and the necessary equipment, then you can complete the shootout by surmounting the problems.
Such is a photographer named Benjamin Von Wong from Canada. People who meet him say that he always has the solid plans for his work as he prepares very meticulously.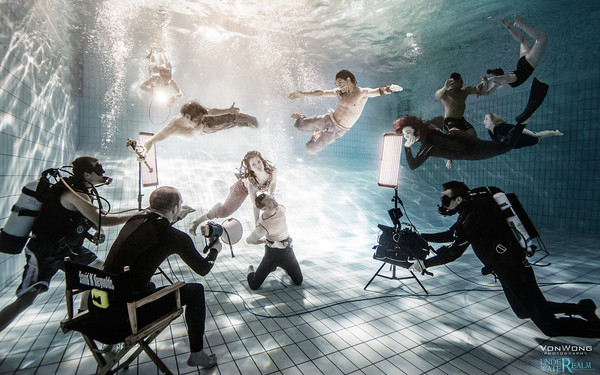 Photo: Creative Cloud and Ben Von Wong
Just recently he went for a shootout in the seas off Bali island. It was a deep sea work. He had with him two models and seven deep sea divers and many parts of the sunk ships to shoot. He demonstrated something that can be done not so quickly. He has shared all this in his blog.
Benjamin says that average models have to be properly trained for diving to be an underwater diver before they can complete the assignment. They need to hold the breath for a long period underwater. Besides, the ordinary assistants are not trained for the underwater shooting. You need accurately and specially trained underwater divers. In underwater shoot out, the lighting is also limited and therefore we need to compromise with the prevailing limitations. He says that he can not say whether such work is inspirational, but one needs to be ready and make definite plans well in time.
He has a versatile background of upbringing. His varied experiences stand well for his achievements. He lived in three different countries with three different languages and thirteen different schools to complete the education. He fondly remembers to have played violin for ten years, got a takwendo black belt and graduated in Mining in 2008. His hobbies had been bar-tending, painting, parkour and most recent being the photography.