Recently President Obama was in Warsaw, Poland and stayed in Marriott Hotel. He went to the gym by saving some time from his busy schedule.
The visit there was an unscheduled one, at the same time, there are reports that say that president's security was perfect and not disturbed. While he was in his work out, somebody took a video and uploaded it in the social media. In a short time, it was viral on Facebook and Twitter. The video got uploaded in YouTube. Within a day, there were 220,000 views.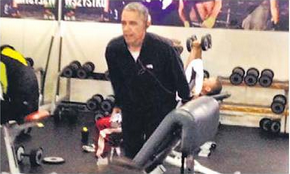 The presidential security specialists did not know who took the liberty to click this video. To shoot President Obama's video in the gym of the hotel without knowledge is a serious security lapse. American president's security failure is shocking.
Some photographs appeared in the local papers. They'll be asked as to how the picture reached them. One of the local photographers said that he knew that gym well and that no one can take a photograph from outside. Either someone has taken it from the inside of the hotel, or they have hidden cameras installed in the premises.
It is reported that the President made lots of noises while working out, he sighed and groaned during the workout, and The President took his full exercise of 45 minutes. The others present in the gym were not disturbed throughout for his security.Barack Obama was staying in a presidential suite on the 40th floor. To stay there, it costs $ 1520 per day.