The last decade was full of trouble for the USA. After 9 /11 /2001 at the World Trade Center, the action for war in Iraq and Afghanistan the America lost heavily in terms of soldiers (4487) and the cost of deployment of security forces. The economy of the USA was in doldrums.
In 2004, there was a resentment against the Bush Administration. The combat shoes of 800 fallen soldiers and their ID card placed before the White house. The act was to force Administration to review the policy of the Armed Forces deployment in the Middle East.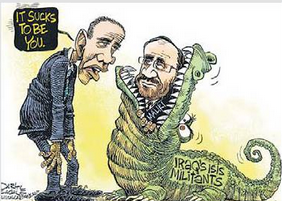 Photographs: Dainik Bhaskar
Initially, the public had supported the Government for the action in Iraq as in Korean and the Vietnam war. Barak Obama won the election on the plank that soldier would be brought back from both war torn countries. He even did this, but today, US foreign policy on Iraq is in question.
Western countries expect the US to attack the ISIS extremist group ( Islamic State in Iraq and Syria), President Barack Obama is in a dilemma, should the action be taken or not? If there is no action by the USA, there is too much to loose. Today, the USA is in deep trouble about Iraq – ISIS has been there since 2004 and asserting itself in Iraq and Syria. It wants to take over in the oil rich areas and inflicting heavy loses on the the Iraqi Government.
– ISIS intends to destabilize the Governments in Iraq and wants to promote the enmity between Shia and Sunni sects. It got established in the eastern Syria, and extremists move freely to and fro between Syria and Iraq border areas.
They have earlier announced the formation of new Area and Government called Islamic State in Iraq and the Levant on  8 April 2013. They have killed people many times since their activities started.
The situation is grim and needs careful handling, the sentiments for the local community is unwilling with the radical elements and fundamentalists. Control of terrorism is difficult, the secrecy from extremist elements may offend a significant portion of the population for the results to obtain. Thus, the US does not have much time to wait, and do something that will stabilize the conditions (worldwide).