Atlanta 's World's Largest Railway Yard
World's largest railway yard is in Atlanta, Georgia.USA.3848 locomotives and 79092 freight cars can be accommodated and operated at a time.This yard is within the Norfolk Southern railway system, coordinates 22 states and 34279 kilometers of rail network.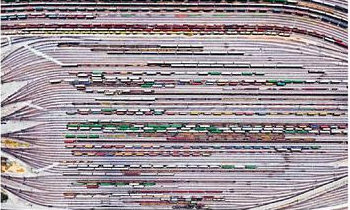 Photograph source: Dainik Bhaskar
There are more than 70 parallel tracks in the picture, you see many tracks but for in and out there are only two tracks on each side. Norfolk Southern Railway is there for two hundred years and is very distinctive in the transport system. To keep itself within the parameters of eco friendly environment limits the railways have used agencies for maintaining the safe standards.
Google's street view of Tsunami on Coastal Japan: 
March 2011 tsunami on Japan coast attracted world's attention. Within eyes' blink so many cities got inflicted with heavy losses. The coastal institutions like schools, hotels and various buildings got destroyed.
Now, Google has generated from its ' Street view from the Ocean program, wherever destruction took place, Google has sent to the affected area, most modernized boat fitted with latest cameras to capture the Northeast coastal areas. There are 15 lens provided on the launch.
Photograph source: Dainik Bhaskar
The street view program includes record of places where there has been very fast recovery and reforms taken place. The panorama photographs were taken earlier by Google prior to the tsunami.
In January 2015, the Google Earth software program would show those areas that had the maximum damage. Like Chernobyl Nuclear destruction, there was a substantial disruption in the Fukushima Nuclear plant and adjacent areas. No sign of human beings can be seen there as poisonous chemicals got released during the nuclear leakages and activity due to tsunami damage.