Makhana (Lotus seed)  is a healthy food consumed over the Oriental world. Most of the people do not know how is this grown and given the final shape. It is called in English as " Fox nut or Frikly Lilly". The green flat leave and stem have small pricking needles. The botanical name is Euryale Ferox. Beautiful purple to pink or red colour to blue shaded lotus flower grow as shown in the video underneath.
Fox Nuts or Makhanas or Lotus seed: The lotus seed, Nelumbo nucifera, is a freshwater plant that has been grown in the Far East stretching right from India to China and Japan, also the Mediterranean for over 5000 years, according to Plant Culture. China and Japan rank the Lotus as a vegetable and eat the roots, called rhizomes, as well as its stems and leaves. The petals are used in spicy dishes and to make teas. The seeds, a principal export from China, are prepared in many ways for feeding or healing purposes. In India, it gets special preparation mechanically in a chain of jobs carried out as shown in the video underneath.
From Lotus Seeds to Makhana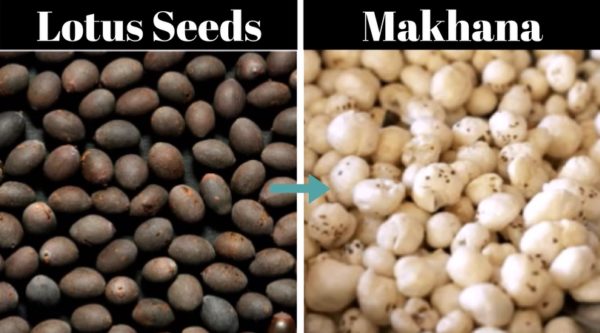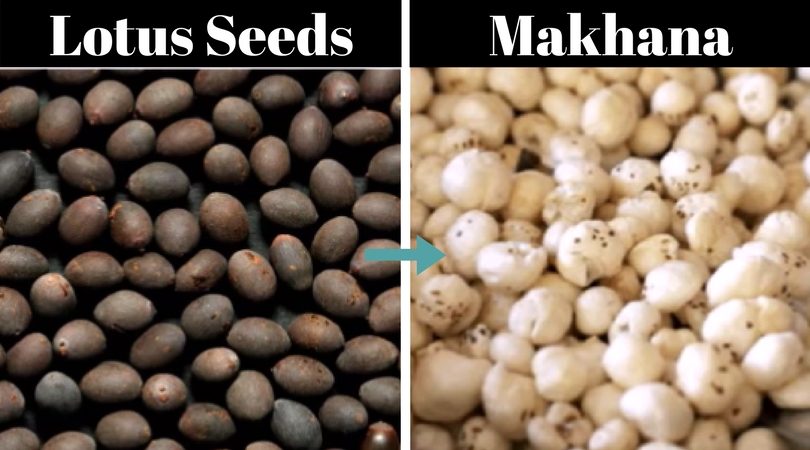 Fox Nuts or Makhanas or Lotus seed has beneficial medicinal properties
They solve the insomnia disorder and replace the sleeping pills. It is an excellent source of calcium. The BP settles fast. Therefore, hypertension gets controlled because of potassium in it. The digestion improves because of high fibre in it.It is suitable for vegans because of plenty of calcium, protein, and antioxidants contained in just a fistful amount is a stress reliever as it has calming properties. It is helpful in diseases such as pneumonia, artery, digestion and reproductive disorders.The list has added for the treatment of abnormally diminished working of the spleen, too much of leucorrhea. Worsened diarrhoea and kidney problems. Makhana is natural, pure and healthy food and gets prepared by roasting the Lotus seed. The lotus plant is aquatic as the seed grows under stagnant water. The scientific name given to this freshwater oriental seed is Nymphaeaceae or in plain language as fox nut or lotus seed.  It is highly nutritious. All age groups of humans can have and digest it.Lotus seeds are also perceived to contain kaempferol; a natural flavonoid also found in coffee which prevents inflammation and ageing. It is considered that roasted lotus seeds make a coffee substitute. In extension, lotus seeds are high in plant nutrients (disease-fighting nutrients) including alkaloids, gallic acid, saponins.
As per Ayurveda, lotus seeds have astringent characteristics that have distinct advantages to the kidneys, helping to rehabilitate energetic energy within the body. The seeds can be consumed raw, roasted, or ground and boiled into a soup or paste. The multiple everyday use of the seed is in the sort of lotus seed paste, which is used widely in Chinese pastries and Japanese sweets. Dried lotus seeds may be immersed in water overnight earlier to use. They can then be added straight to soups, salads or adopted in other dishes. Roasted seeds are used in curries, kheer, puddings and dry roasted snacks.
So far, as there are no comprehensive records on the lethal effects of long-term use of lotus seeds and their outputs, more experiments are required. Although nutraceutical importance of lotus seeds is authenticated, a further precise search of value-added composites might be helpful in health improvement.
Lotus seeds have a promising future as an equivalent gluten-free protein supplement and potential functional food and pharmaceutical source. Mixing its powder with other nutritionally rich daals/Legume and soybean or millets like bajra and jowar will be of tremendous importance to produce cheaper, gluten-free, protein-rich food supplements to fight starvation, primarily related to India. Hence, start the 'makhana' meal food in your regular diet for that wholesome edge.
Usage/ preparation: used as roasted/ fried mouth-watering snacks in Indian curries and must for decorate biryani or pulao. The experience that they are tasty, reasonable, simple to make and yet nourishing and healthful. Roasted Makhanas get used in many kinds of snacks and puddings of the Orient, like kheer and barfi. It is used with gram dal and in vegetables and very delicious and well-made dishes like vegetable curry.
Benefits of Makhanas:
1)Low in cholesterol, fat and sodium, therefore an ideal meal to satisfy those in-between meal craving bites.
2) They are advantageous to those experiencing high blood pressure, heart diseases and obesity due to their high magnesium and low sodium content.
3) Makhanas are prescribed for people with diabetes too due to their small glycemic value. These nuts are low in saturated fats and Sodium and high on Magnesium, Potassium and helps in controlling high blood pressure and diabetes too.
4) An anti-ageing enzyme in these seeds is said to help repair damaged proteins.
5) Also, the presence of a natural flavonoid called kaempferol (also present in coffee, helps prevent inflammation and ageing.
6) The Ayurvedic system suggests that fox nuts astringent properties benefit the kidneys.
7) Makhanas are gluten-free, protein-rich and high in carbohydrates.
8) They are low in calories, making them an ideal snack for weight-loss.
9) Ayurvedic and Unani medicine believe Makhanas to have aphrodisiac properties as they fight impotence and improve sexual performance, thus,  assisting fertility issues like early discharge, enhancing the character of semen and also helps females in overcoming barrenness.
10) Fox Nuts are rated superior to dry fruits such as almonds, walnut, cashew nut and coconut regarding sugar, protein, ascorbic acid, and phenol content. It is high in antioxidant and thus acts an anti-ageing food, helping in checking white hair, wrinkles, premature ageing, etc.
11) It is excellent in fibre and so helps to avoid constipation. Makhana helps the body to flush out the waste and thus prevent the accumulation of toxins It benefits in controlling palpitation and insomnia as it has calming properties helps in relieving arthritis- numbness, and pain in joints
12) As it has astringent features, it also helps cure diarrhoea and have a healthier hunger.
13) It stimulates the body and diminishes hurting feeling and satisfies thirst.
14) These nuts are a type of seed that could be added to the daily cereals or soup to maintain good health. Since it has the excellent amount of protein, it is considered quick snack for vegetarians. But, because it is neutral in taste, usually no one prefers to eat it raw.
Additional Health Benefits
Western research has observed many advantages for the whole of the lotus plant. The seeds are potent antioxidants and help fight swelling and ageing, writes D. Tian, Ph.D., author of "The Versatile and Valuable Lotus," in the November 2008 edition of the "Water Gardeners International Online." He adds that good investigative data support using the seeds as an antiviral; they can help fight herpes one virus. Dr Tian also states that since the 1960s, a study has found the seeds to be useful in reducing hypertension. Most of the experiments have used creatures in a lab setting, but there is good hope for individual analyses.
Homer told about the Lotus-eaters who discouraged Odysseus's men on their historic journey and whose fare made people absent-minded and indifferent. Fact divulging from the saga, the seeds and leaves are nutritious and have been used in preparations for thousands of years without causing anyone loses memory. In addition to being edible and decorative, the lotus plant has many well-being benefits as well.
Cooking And Dining: The seeds may be consumed fresh but get mostly dehydrated before export. Typically, Asians bake the seeds or use them to make conventional foods such as "moo pies," and also red bean and lotus seed soup for honeymooners, as per the Institute of Traditional Medicine. Within the seed is a bitter embryo. Many advise removing the bitter part before cooking. It is quite well known that the embryo and seed extracts get often used for healing purposes.
Conventional Medication: Practitioners of traditional Chinese medicine view the seeds as astringent, indicating amidst other things that they can reduce irregular fluid leakage from organs such as the spleen, kidney, and heart, according to Dr Tian. Men are given lotus seeds as a component of treating insufficient kidney function related to sexual problems. The central part of the seeds, the bitter greens or embryos, are deemed "cooling," and are used to heal the heart for "pathogenic heat."
Recent researches carried out on heart problems on mice have shown positive results for the use of Lotus seed (Makhana). It improves the blood supply to the of tissues of the heart after the heart attack or injury. The experiments carried out to confirm the benefit of the dosses of Makhana gives the cardioprotective properties of Makhana. The Makhana used show its ability to induce TRP 32 and TRX-1 protein and clean the ROS. These terms mean to "control cancer". Calorie Lab points that the Lotus seeds are also a good source of minerals like thiamine, phosphorus, potassium, and manganese.
Nutritional value
Just 28 grams raw lotus seeds render 94calories. While 28 grams of grains is a pretty small sample size, it is a low fat & cholesterol free meal. Lotus seeds carry no sugar but do give 18.3 grams of carbs and 4.4 grams of protein and also 4.6% and 5.6% of the daily values of calcium and iron, severally.