Preparation Time:- 10 minutes
Cooking Time:- 35 minutes
Serves:- 4
Amount Per Serving
Calories: 281
Total Fat: 12 g (2 g saturated)
Cholesterol: 29 mg
It is a delicious salmon dish to try with apple, onion and less fat and takes less time to cook.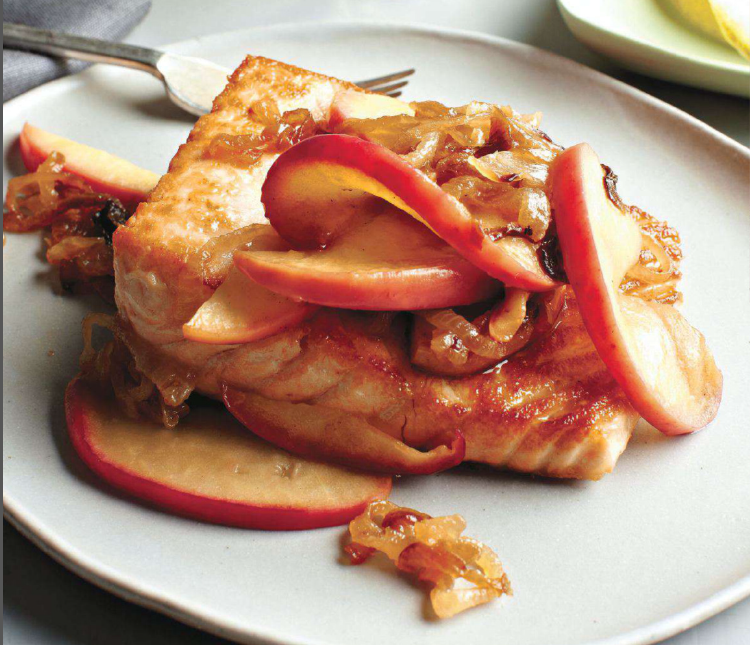 Ingredients
2 teaspoons olive oil
4 wild king salmon fillets, skin on (5 to 6 ounces each)
1/2 teaspoon kosher salt, plus fresh ground black pepper to taste
1 teaspoon unsalted butter
1 onion, peeled, halved and thinly sliced crosswise
2 cinnamon sticks
2/3 pound sweet- tart apples (about 2 medium)
1 teaspoon white wine vinegar
Instructions
1. Heat a large skillet over high flame. Add oil to it and tilt the pan to coat the oil evenly at all places. Season salmon lightly with salt and pepper and put it skin- side down to the pan. Cook the salmon without moving it for 1 to 2 minutes or until the undersides are golden in color. Gently flip fillets and cook for 1 minute until its golden. Though the fish is not fully cooked, just put it aside on the plate.
2. Now add butter, onion, and cinnamon to skillet. Reduce the flame to medium and cook it tossing it occasionally for about 15 minutes or until the onions are soft and of deep golden brown color.
3. Cook the quarter, core and thinly sliced apples into the pan with a pinch of salt and toss for 5 to 10 minutes or until the apples are almost tender. Now place the salmon fillets on top of apple- onion mixture. Cover the pan and cook on medium- low flame for 2 to 3 minutes or until the salmon is perfectly cooked. Now put the salmon in four plates. Now add wine vinegar to the apple – onion mixture stir to combine it. Add vinegar according to your taste. Spoon over salmon and serve.