Preparation Time:- 20 mins
Cooking Time:- 15 mins
Serves:- 4
Amount Per Serving
Calories: 382
Total Fat: 26g (7g saturated fat)
Cholesterol: 0mg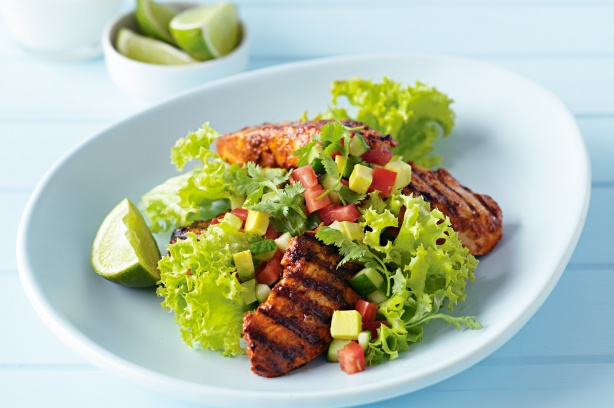 Its a delicious dish to try with tomato and cucumber salsa. You should try this Indian inspired main and should not restrict yourself to curly coral lettuce to salads.
Ingredients
2 tbs Patak's Tandoori Curry Paste without gluten
2 tbs olive oil
4 single chicken breast fillets, cutted diagonally into 3cm-thick pieces
1 green coral lettuce, with leaves separated
180g (2/3 cup) natural yogurt
Lime wedges, for serving
For Salsa
2 ripe tomatoes, finely chopped
1 avocado, halved, stone removed, peeled, finely chopped
1 Lebanese cucumber, finely chopped
1/3 cup fresh coriander leaves
Instructions
1. Firstly combine the curry paste and half the oil in a ceramic bowl or you can also use a large bowl. Now add the chicken pieces to it and toss it over and over to coat. You have to cover the bowl with plastic wrap which need to be cooled down, so you have to place it in the fridge for 30 minutes to marinate.
2. Meanwhile, you can prepare to make the salsa. So for preparing the salsa, firstly you need to place the tomato, avocado, cucumber and coriander all together in a small bowl and toss to combine and mix them together for making it a nice and firm salad for the toppings on the chicken.
3. Now you need to brush a barbecue grill or char- grill with the remaining oil. Now heat the grill on medium so that it is warm before we start cooking the chicken on it. Now place the chicken on the grill and cook the chicken on it for 3-4 minutes on each side or until it is cooked through. While cooking make sure the chicken is perfectly cooked so as to get the perfect taste of Indian tandori chicken. After its been cooked transfer the chicken to a plate and cover the plate with foil to keep warm.
4.  Now you need to divide the chicken and lettuce among the serving plates. Now you can take out the already prepared salsa and top the tandori chicken with tomato, cucumber, acocado mixture. Serve it with the yogurt and lime wedges.
Note
Budget tip: To save money, replace the chicken breast fillets with 8 thigh fillets. Patak's curry pastes mentioned in the ingredients are gluten free – if you use a different curry paste then make sure that it is gluten free, so do check the label before use. If Patak's Tandoori Curry Paste is not available you can also use mild korma curry paste.