Very often, we keep hearing stories about hospitals charging exuberantly for the treatments. Such cases happen in many countries.
Recently, in a case in Bayonne, New Jersey, USA a hospital charged over $ 8000.00 ( eight thousand) just for putting the bandage on a person's fingers.
Bayer Hanusaj Rajcoveski received a cut in on of his middle finger and required a dressing. There was no complication, or any stitches required or an x'ray was not required. He got it dressed in Bayonne Medical Center, a hospital in New Jersey. He was taken to the Emergency room. He received an injection of Tetanus, and afterwards, they handed a bill of $ 8200.00. The details were given $ 180.00 for the Tetanus injection. $ 242 for sterile supplies, $ 8 for the antibacterial cream, and the remaining amount for the Nursing care.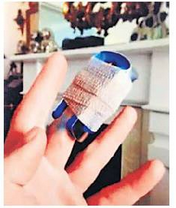 Photo: Dainik Bhaskar.
Bayer was surprised. He reacted that it was sheer madness to charge such an exuberant amount. How could they do that?  He said, "If a part of my body needed amputation, then it will be better to go to another hospital in another city."
The Medical Center held responsible his Mediclaim Company 'United Healthcare'. for such a high charge. The Company had no provision for small claim and treatment. The Company paid $6640 and said the rest he had to pay himself. This case came to the attention of NBC NEWS' Investigating team. On the channel's investigations, CEO of the Medical Center wrote off the remaining amount.
The Investigating established that there was a secret deal between the Insurance company and the Medical Centre. Had the media not taken up the matter Bayer would have to pay about $ 1500.
https://www.youtube.com/watch?v=RKcrN-R2zmY