That was a historical Achievement: Ten years old SHUBAM JAGLAN" from the village Israna, Panipat, Haryana, India surprised the world by winning the Junior World Golf Championship. He is all over the news. He won the second world title in the 2nd week and has won over 100 tournaments so far.  He has also got the title of IJGA World Stars of Junior Golf, in Las Vegas, USA.
He is the son of a milkman who dealt in the business of distributing milk. To realize the dreams of his son, the Father sold off his the herd of cows and water buffaloes and moved over to Delhi for his son's training. Shubam had completed 3 rounds in Five strokes' margin and got 106 scores. In 9 to 10 years' category, Shubam had defeated America's Justin Deng, Suhan  Sandhu, and Thailand's P Laopekadi.
Shubam Jaglan followed his dreams with the passion to reach the heights he scaled. His experience  of going through ups and downs is noteworthy and reached his goal with years of hard work. The message is clear: to follow one's dreams with total dedication and achieve something notable. Shubam had missed last year's championship and worked hard to get the top billing this year. Amit Luthra Arjuna awardee and Asian Games gold medallist took him under his stewardship in the Golf Foundation, to nurture his talent. He is grateful to his family and friends and especially to his father who was always there to see his needs. He thanked  Delhi Golf Club for all their support and guidance. He acknowledges the guidance of his coach Nonita Lall for all the inspiration to bring him to the level reached.
Here is an example of a young boy, one who is endowed with exceptional ability and inspired promising lads like him all over the world.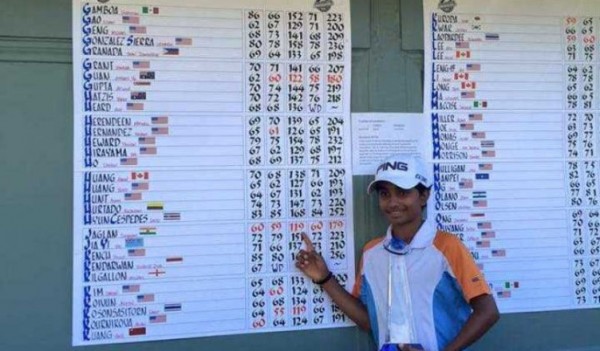 Photo Courtesy: The image was posted on official Facebook page of Shubham Jaglan © Facebook
This is how he reacted to some questions. " I am feeling good, working very hard and very honest in my game. There are no short-cuts for the success." "I have finally done it! I have won this prestigious tournament," Shubham was quoted as saying by The Tribune. "All the credit goes to my family, Delhi Golf Club for giving facilities to play and practice, and the Golf Foundation for giving me everything that I needed." Via 
He got Ahead by watching YouTube Videos
A Non-resident Kapur Singh had started an academy in a village where Jaglan took the admission and had commenced play in the farm fields of the village. The academy had closed after a few days. But, Shubam Jaglan did not stop playing. He continued to play and practice near his house after cleaning a farm field. His father put a green grass in the field and gave it the shape of three hole golf field. Delhi Golf club on learning of this budding star gave a scholarship of $ 3200 yearly,  and a free club membership. Jaglan had no turning back on his passion. He would watch the videos on the YouTube and continued to practice. He would first watch the video, learn the technique and then practice in the farm field to perfection.
Awaiting the Hat-trick: 
He is about to play in Atlanta and awaits with heart and soul, for a hat-trick in the next week. Known as ' Tiger Woods of Israna'. He is likely to repeat the feat of Tiger Woods, who in 80 won the junior title on the same scale.