Preparation Time:- 15 mins
Cooking Time:- 1 hour
Serves:- 12
Amount Per Serving
Calories: 315
Total Fat: 23.1g
Cholesterol: 42mg
Holiday Chicken Salad is a superb recipe and the dried cranberries add a sweet tartness to chicken and vegetable salad. It make a delightful sandwich filling and can also be served on lettuce cups.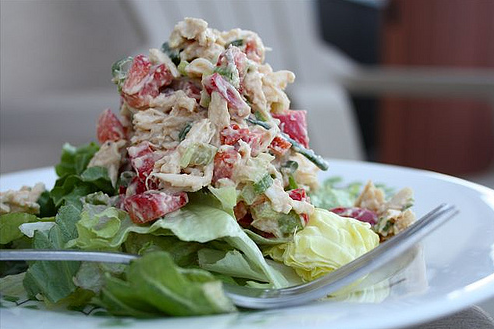 Ingredients
4 cups cubed, cooked chicken meat
1 cup mayonnaise
1 teaspoon paprika
1 1/2 cups dried cranberries
1 cup chopped celery
2 green onions, chopped
1/2 cup minced green bell pepper
1 cup chopped pecans
1 teaspoon seasoning salt
ground black pepper to taste
Instructions
Take a medium bowl and mix together mayonnaise with paprika and seasoned salt. Blend in dried cranberries, celery, bell pepper, onion, and nuts. Now add chopped chicken, and mix well. Season with black pepper to taste. Chill  for 1 hour, and its ready to serve.