There are a few people who spend their each moment in helping and sharing with others. Such is a person Anthony Cymerys of Hartford, Connecticut. He is veteran from Army. People call him 'Joe the Barber.' He helps homeless people, as a barber for over 25 years, he is doing this free weekly service of shaving and making haircut in Bushnell park, under an oak tree.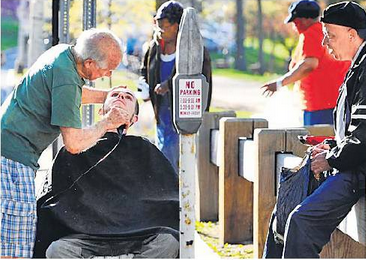 Source: Dainik Bhaskar
On each Wednesday, he is there for lined up people. They even get meals offered by a church. The homeless people love him for this and hug him for the kindness.
The local Health Officials and Police stopped him saying that he does not have a permit. He fought for his right to serve needy and homeless people. He kept his stand that no permission is required to serve the poor. Later on the authorities had to agree as per orders from Mayor Pedro Segarra. The Mayer said an exclusive license can be arranged for the service he has been rendering for years. Local people celebrated for this small battle.
After his service in Korean war, he left the military service and spent much time with the Armed Forces Officials. 2o % of American homeless are from the Army in the US. Such people were sent to Vietnam and Korea. He has been praying for their safety. There are many people in the US military service who were shunted out after being crippled. Such people share stories with him.
Anthony, at age 83 years, says he feels good on helping people and maintains that to serve,  the age is not a hindrance. People who see him, along with those who are helped,  also feel good. He is proud to take care for his Sister Juli now of 98 years and Brother Toni at 96.