During 2nd World War Japan had never thought that it will have to face such a severe defeat. When atom bombs were used to wipe out Japanese cities of Hiroshima and Nagasaki.
Japan had broken down completely. Japan was left with no strength to continue the war.
Emperor Hirohito had informed (on 10 August 1945), the American and Allied Forces through the Ambassadors that Japan would like to surrender without any pre-conditions. There were American warships and Naval boats captured by the Japanese military. The Japanese were fighting the American forces in the South Seas and the Russians in Manchuria. By the 12th August, the Japanese the Supreme War Council agreed and was ready for the surrender.
In the Bay of Okinawa, the Japanese forces and Naval ships stopped their activities. The surrender ceremony and documentation were to complete for the afternoon of 2nd September, 1945.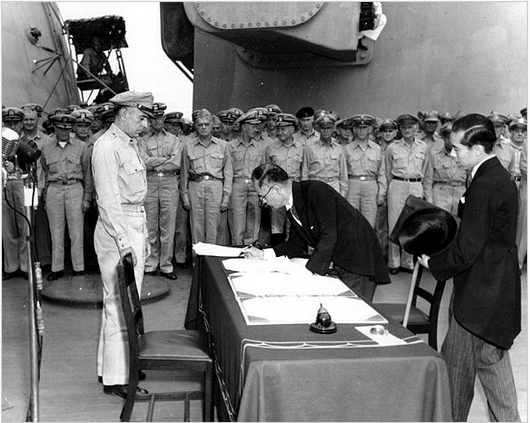 Photo: Wikipedia
Unhappy for the surrender, General committed Suicide.
General Anami was unhappy on the news of surrender and rebelled against the decision of the Supreme War Council. He wanted the Japanese never to surrender to the American Forces. With no choice left to alter the War Council's decision to quit he committed suicide.
The big Decision is taken for Citizen's welfare.
On the 14th August, the Emperor Hirohito made a radio speech that he would not put the masses in trouble and took the decision to quit without any precondition. It agreed that the 2nd September 1945 to complete the ceremony of surrender on board American Warship USS Missouri in the Tokyo Bay. There were around 1000 Japanese personnel, and American Officers & Soldiers were present. After this event, the World War II came to an end officially.
Due to different timezones War Memorial Day is marked in Japan on 14-15 August. Whereas in Europe victory over Japan is celebrated on the 15th August and in the US on 2nd August every year.
https://www.youtube.com/watch?v=o2ZHv2UPLys