In the 1990 decade while using the internet no one could imagine that there would be a company known as Google. Google got underway on 4 September 1998 and has now become a part of life of all the internet user.  Starting as a Search Engine, today G-mail, Google+, Internet browser, Chrome, Google Earth, Google News are a part of this company.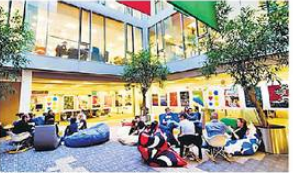 18 years earlier in 1996 two students Sergey Brin and Lawrence Page
of Stanford university started a research project called ' BackRub ', It was the idea of Larry Page to link one web page to the other web page and to present many web pages in front.
Sergey Brin and Lawrence Page had registered Google.Com as a company on the 15th September.   After a year on the 4th September 1998, they had opened an office in the garage of a friend Susan Wojcicki in Menlo Park, California. They were on their journey of an excellent company starting their business. They were financed by Andy Bechtolsheim the co – founder of Sun Microsystem with a sum of $ 100000 for the working capital.
Internet was made easy.
Google had to struggle very hard for the initial 4-5 years to survive. People who knew a bit about the e-mail were misled by the new name Gmail in the beginning. After a while, Google rectified a few things in their approach and users started to understand the Google. That is how Gmail became a part of the internet user and the Google. During this period, Google made the chatting easy and helped the users to connect with each other.
Many Companies were Lagging behind
In the year 2000, to increase the users' base Google started posting Ads through links, their income increased and convenience for the Users. In the fields of Email and search engine, the competitors like the Microsoft and Yahoo failed to attract the users.
Forty Countries have the Offices.
Google has over 50000 employees in forty countries throughout the world.and 70 Offices spread around.The name Google was adopted from Gogole. Both friends struck to the new name Google.  And  the Company  is growing up all the times to come.