If you are going for a hair cut, naturally you think of getting a cut by a scissors for a stylish haircut. There are specialities even in this field. Vietnamese hairdresser Nguyen Hoang Hung  gives a stylish and fashionable look to the customer. Initially, people do not believe that such a feat is accomplishable, but once when they see the act, they are flabbergasted. Haircut does not hamper his speed or quality of work output. Prior to starting he tosses around his sword and people are surprised. They there is no need to fear because the hair will be very decent to look.
Nguyen did not learn haircut art just like that. Four years earlier he participated in a game where he had to cut hair without using the scissors. He had a hand saw lying in front of him. He enjoyed doing that. Since that day, he made up his mind to use a samurai sword to do the job. Over the years, he got the excellent skill in doing his job. So much so that today young men come for this particular hair by the samurai way.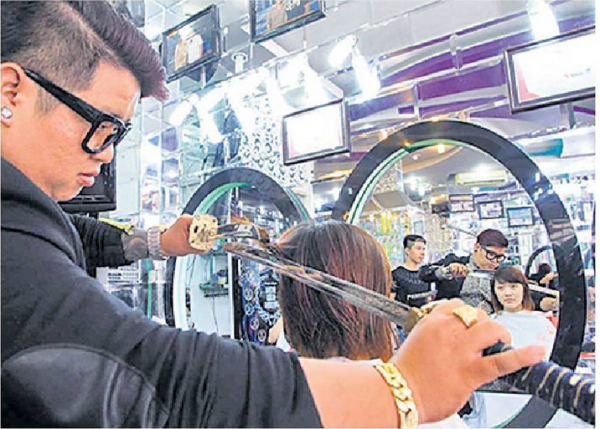 Photo credit: Ngoisao
Nguyen says that he is so much used to the samurai sword that he has developed a perfection in giving beautiful hair cut this way. The sound of a samurai sword is sharper and louder than the scissors. He can work better with a sword than the scissors after the practice. His clients prefer this style. Some girls also like this art and wait for the turn at the saloon. His video got viewed for more than 214000 in mere ten days. Please do not miss to view the video at the address below.