A famous writer was sitting in his study room and wrote:
1) Last year during an operation, my gallbladder got removed. Because of the operation, self-had to stay in bed for very long. It was a terrible experience.
2) Earlier, this year on turning 60 years of age self-had to quit my favorite job. I had been working there for 30 years and was highly attached. I feel sad and miss a lot of jest out my life.
3) This same year I had to face the sorrowful death of my father. It turned out to be a nightmare.He was my mentor and a guide.
4) And this year my son had to be hospitalized for an extended period due to a car accident. He failed the exam for the medical college entrance. There was a much financial loss because of the repairs of the car.
Finally, the author wrote, on the whole, it was an awful year.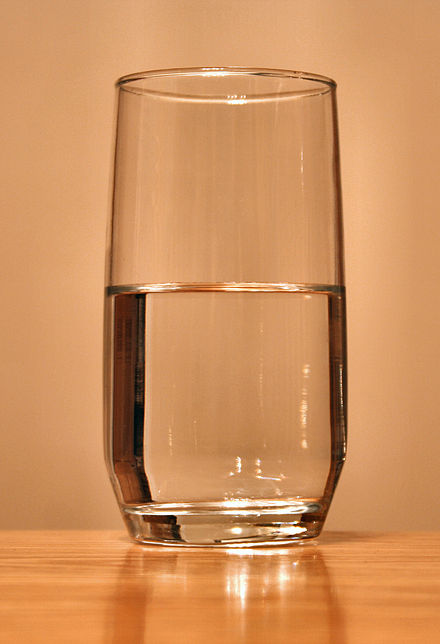 Photo credit: Wikipedia Is the glass half empty or half full?
When he was writing the author's wife was in the room, she noticed that her husband looked exceptionally sad and was autistic. She saw her husband while standing behind his chair and read what he had written.
She went quietly out of the room and returned a little later with a second paper that she placed next to her husband's written note.
The author then looked philosophically at his wife who had kept her written paper beside his paper. He read the note as follows:
1- At last, this year, finally got rid of that gallbladder, because of that I had to suffer a lot, was upset with pain for several years.
2- This year, after completely recovering from my sickness, at the age of 60 years I got retired. Now I can pay attention to my meaningful writings and spend the time and have much fun with the family.
3-This year without any problem my Father aged 95-year-old went back to God without being severely ill.
4- This year my son was well protected by God in a car accident with both his legs intact.
Finally, his wife had written, "this year we are very pleased for His bountifulness, as our year was excellent and dear God, was very kind to us".
Each human being faces many life situations that are varying. How the time and the circumstances affect us, totally depends on our approach and way of thinking?
If one approaches the situation with an optimistic and positive view, the results are beneficial and helpful to lead a life that is a full of joy and harmony.
Positive emotions include a wide range of feelings, not just happiness and joy. Included are emotions like excitement, satisfaction, pride, and awe, amongst others. These emotions are frequently seen as connected to positive outcomes, such as longer life and healthier social relationships. Via