Syria is war torn for five years now. Seventy percent of its area has turned into ruins and shambles. 80000 children got killed out of 250000 people who have perished so far, and almost one-third of them are children who died for no fault of theirs.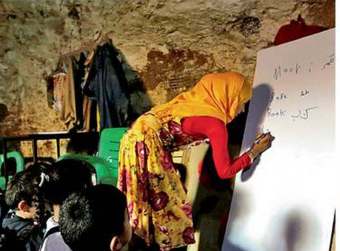 Photo Source: Dainik Bhaskar
Amongst this destruction, we have the pictures of hope. One couple in Tramla village, Idlib province in the rebel areas has been taking classes to educate children in a cave so that they remain safe in the air raids. Most of the parents of these kids died or have abandoned them in the civil war.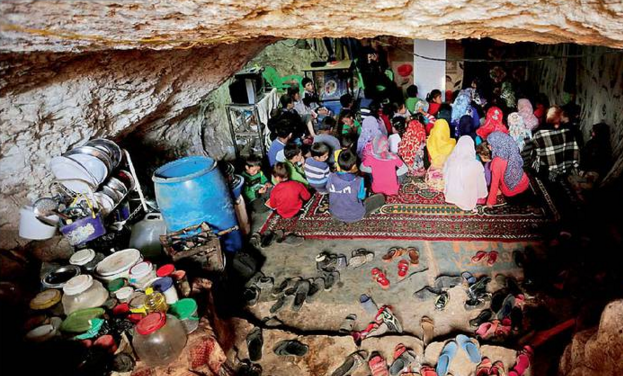 Photo Source: Dainik Bhaskar
Professor Mohammad and his Wife have taught these children for years. They feed them well by providing food. Fourteen years old Khalid said that the Professor and his Wife take much care and love them. That's why we never miss them. The Professor stated that it is not safe to teach them in open as any missile may drop and finish everything. The cave keeps our future safe.

The way to the Classroom inside the Cave. Photo Source: Dainik Bhaskar
Bullet holes in the walls and concealed lessons in the caves are the order of the times. See how learning is now one of the dangerous pursuances for children and educators inside Syria. The country's schools are being crushed and devastated in the struggle. They live in the most war-torn and unpredictable disturbed country in the world and have had the innocence of their childhoods robbed off.
Many children whose families got uprooted are still getting tutorials from some courageous educators in war-torn Syria. They meet in caves and in bullet-riddled structures to learn Maths, Arabic, English and methodical studies. But kids in Syria, as shown above,  who still need to learn to get educated in hidden caves by courageous teachers who endanger their security daily to give their charges the education. Learning has never more been so challenging for the kids.
The psychological impact on these war-torn children is devastating. They have lost the concentration to study, reason or learn. The statistics say 39% of them get bad dreams, 42% feel sad regularly, 38% were unable to live up to the stress of the environment, nearly half of the kids get scared easily, and 40% get chronically sorrowful. For example in Egypt, one of the kids explained that the refugee children get ridiculed, harassed or made fun of, even by the administration or teachers hit or inflict corporeal punishment, and they get verbally abused. They were unable to understand the unfamiliar subjects or the language.
The refugee children in the host countries, who were lucky enough to save their lives have no access to education as they have to work to entirely or partly support their families.
Save the Children has the following to add: The Syria civil war has annihilated thousands of children, and more have been injured traumatized or compelled to escape their hometowns.
Save the Children is on the spot, in very grave conditions, helping keep children protected, giving the essentials they need and offering support to help them cope with trauma. The organization is doing all it can to provide urgently needed financial assistance to Syria's next-door-neighbor who are shouldering the responsibility of receiving more than four million. Save the Children calls on all participants to the conflict to end all raids on schools and to abide by the international humanitarian law, and on international donors to recommence investing in Syrian children to ensure their security and that learning is safe and comprehensive.
"We owe it to Syria's children to provide them for the immediate and also for their tomorrow, to be able to cope with their big hopes and fears and to rebuild their nation in line with their real goals," Hearn said.
No matter how overwhelmed we may feel by the challenges of helping these children, it's even more overwhelming to be a child refugee—torn from home, family and everything familiar. We are the grown-ups, and it's our responsibility to take on these overwhelming challenges and help guide children to safety. Please join us.
Also, see – SYL Canal Dispute in Punjab