Preparation Time:- 40 minutes (as it needs to be cool down for 30 minutes)
Cooking Time:- 0 minutes
Serves:- 4
Most of us are fans of cheese and we all like sweets. Here is a delicious combination with a twist on a classic with a biscuit base, cheesy filling and creamy topping. It is very easy to make and it is very light and soft to eat. It looks very sweet as being served in a glass. You can also do the variation in the recipe as given in the note. If you like chocolate and strawberry then you will also love the recipe given in notes so do try it.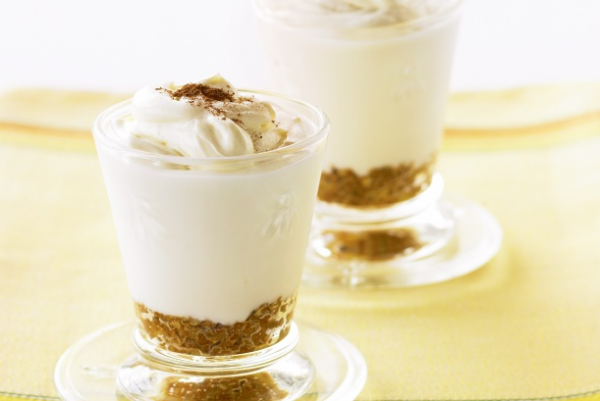 Ingredients 
1 x 200g pkt Woolworths Select Stem Ginger Cookies
90g butter, melted
1 x 1kg ctn Yoplait No Fat Classic Cheesecake Flavoured Yogurt
1 x 250g ctn 80% less fat light cream cheese kept at room temperature
125ml (1/2 cup) thickened cream
55g (1/4 cup) caster sugar
1/4 tsp ground cinnamon
Instructions
1. Firstly place the biscuits in the bowl of a food processor and process until its finely crushed. Now you nee to add the butter and process until its combined together. Now you have to divide the biscuit mixture in the four serving glasses with the capacity of 375ml (11/2- cup) and it should be pressed into the base of each glass as to get the other things in the glass too.
2. Now you have to divide the yogurt among the four of the glasses in which we have filled biscuit mixture.
3. Now you have to use an electric beater so as to beat the cream cheese, cream and sugar mixed together until the mixture is thick and smooth. Now you need to divide the cream cheese mixture evenly among the four glasses. Now sprinkle the glasses with the cinnamon and place in the fridge for 30 minutes to chill.
4. Serve it cool.
Note
To put the variation in the parfait you can use chocolate and strawberry parfaits and omit cinnamon. You have to replace the ginger cookies with chocolate biscuits which is to be topped with sliced strawberries and grated dark chocolate. If you don't like the chocolate much you can try the original recipe which is very good and the yogurt, cream and every thing will give you a memorizing feel in every bit you take. It is a simple, easily prepared desert which can be served in many different occasions. It can be served to guests as well as made for home members.