Mars Orbiter Mission of Indian Spacecraft named Mangalyaan (India) will reach its orbit on 24th September.  The Indian Space Research Organization (ISRO) scientists have two options to complete its plans.
Plan A: Under this plan on 22nd September at 2.30 PM the liquid engine will be test-fired. So that, the course alteration of the spacecraft passage will take place. The engine will start for 3.968 seconds, consume about half kilos of its total fuel of 280 kilos. If the liquid engine works correctly, the scientist will proceed as per plan A.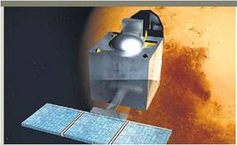 Photo : Dainik Bhaskar
Plan B; In case plan A fails, on the 24th September, the eight thrusters fixed to the spacecraft to be switched on, so that whole of its fuel will get consumed.
The orbit as per plan A will bring the Spacecraft about 515 KMS above the planet. In plan B, the orbit height will increase to 723 KHs above the Mars. There will be no loss to the spacecraft. Only that the time will get prolonged for the mission too complete.
Monitoring is from four countries.
About 250 scientists will continuously track the spacecraft from four countries. Bangluru, India  (has Indian Deep Research Network); that will monitor with its Antenna placed 32 meters above the ground. The others places being NASA (Houston), Canberra (Australia) and Madrid ( Spain). All this centers will be using the same sized antenna.
250 TB storage:
There will be 60 GB data security facility available, which may be increased to 250 TB by the processor. Looking at the success of ISRO, NASA has also come alongside and cooperating.  At times, it takes up to 32 hours to receive data from the Spacecraft.
The Benefits to scientists and the nation.
The PRO of ISRO gave info that to receive data it takes a long time if there is no damage to the craft. ISRO has prepared the spacecraft with
an Autonomy Function. This function enables the space craft to take its own decision to avoid any impeding dangers.