The Spectrum Mountain:
The Mount Edziza volcanic complex of British Columbia, Canada. Nature has blessed the area with colorful mountain ranges here with incredible beauty. The spectrum range is one of four strata-Volcano in the world. Because of heavy quantities of deposit of minerals on the hills, these colors are prominent and attractive. 
 Mount Edziza and the spectrum range come under the area of Mount Edziza Provencial Park. It is one of the most beautiful places in the Canada. Most of the folks are not aware of the fact.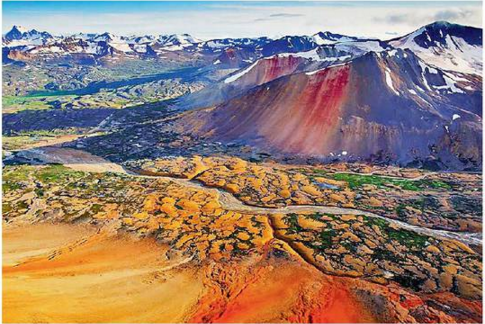 Photo Credit: Dainik Bhaskar
Location: Located about 20 km in the north of the mountain range region of the Arctic Lake Plateau near to the Stewart Highway. The name given is because of its colors in natural condition. Yeda peak is the highest peak at 7970 feet of this mountains. The summer is for a very short period when the temperature reaches 30 degrees Centigrade. The tourists flock here during this time.
The Volcanos burst here for more than 20 times during the last ten thousand years. There are 12 dangerous volcanoes in the area.  Yeda peak is one of them – in spite of the potential danger, the adventurers come here hiking year after year.
Rainbow Mountain Of China: