The mountain hairpin bends are from the the approaches to the Tianmen Mountain also known as Gate way to Heaven – Tianmen cave in China and is part of Wulingyuan Scenic Area – a UNESCO World Heritage Site. 
The exact location is Tianmen Mountain National Park, Zhangjiajie, in northwestern Hunan Province, China Coordinates 29°3′9.65″N 110°28′58.8″E.
It is interesting to note that the road leading up the mountain has 99 hairpin bends. The cable cars are numbered 98 with a total length of 7,455 metres (24,459 ft) and ascent of 1,279 metres (4,196 ft) with a steep gradient of 37 degrees . It was made and maintained by a french company known as Poma. It is claimed to be the "longest passenger cableway of high mountains in the world". The tourists can walk up to the top of the cliff with a section made of glass. An 11 kilometres (6.8 mi) road with 99 bends also reaches the top  and takes visitors to Tianmen cave, a natural hole in the mountain of a height of 131.5 meters.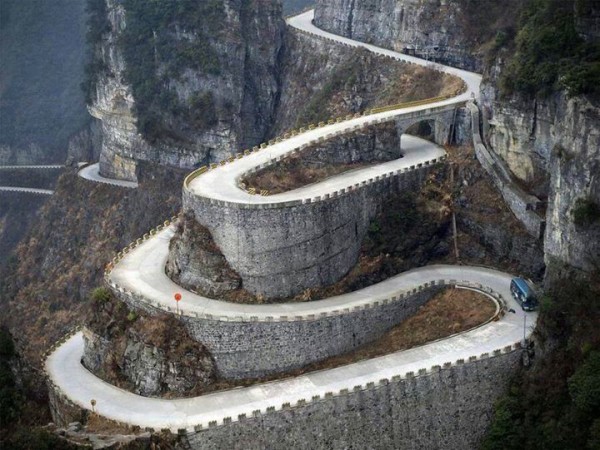 The original name of the mountain is tagged as Tianmen cave but in reality it is now remaining as an arch left from a massive collapse of the mountain. The cliff face's after end of the cave was lost to the valley below.  The the remaining hole known as Gateway to Heaven – Tianmen Cave  – has the dimensions of  131.5 meters high, 57 meters wide and 60 meters deep. Tianmen cave ( now Arch) is the world's highest Natural arch at an elevation of 1520 meters. In earlier times the mountain was known as  Songliang, which was later on christened as Tianmen meaning sacred. At the summit is located a big temple was constructed by the Tang dynasty, the temple complex has lately added a vegetarian restaurant.
In the recent times the World Wingsuit League held the two World Wingsuit Championships in Tianmen. On October 8, 2013, a wingsuit flyer plunged to his death as the parachute didn't open during a training camp.
Gateway to Heaven – Tianmen Cave, China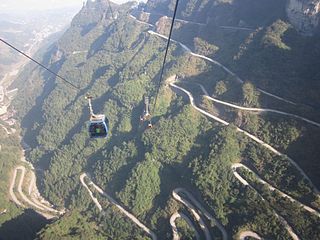 View of the Heaven-Linking Avenue from a cable car.