Many types of hotels exist in the world with their own specialties and peculiarities. Up until now you may have known about hotels constructed in water, ice or sky but here we bring you a hotel made of salt in Kolchanni, Bolivia about 350 kilometers south of the capital La Paz, South America. Its name is ' Palacio de Sal (Spanish for "Palace of salt"). This hotel built by an artisan thoroughly conversant with salted walls and floors, furniture, interiors and furniture.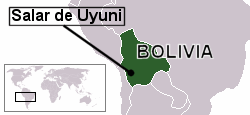 Source: Wikipedia
This place is at height of 11350 feet at the crest of Andes mountains. The visitors had to return to their cities because it is all salt everywhere. This hotel is the need of the time and place. There is no other building material in the area; salt is the only commodity available.The earlier hotel was constructed in 1993-1995. The sanitary arrangement were not available and soiled material had to be carried manually for disposal far off. The hotel had to be dismantled because of severe environmental problems
This unit came up gauging the need of area in 2007 with the unusual feature of saltwater pool,  salt whirlpool and dry sauna and steam room.  The hotel has 30 room available for the guests. The daily tariff start from $ 150.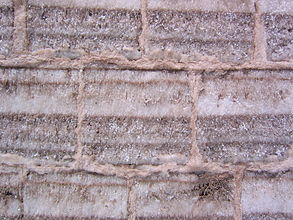 Source: Wikipedia Wall Details
Tour guides Pedro Pablo says that he is very happy to meet the first timer, tourists who are very happy to come here.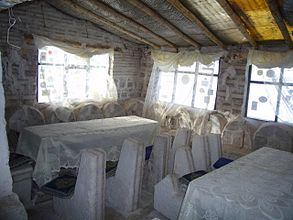 Source: Wikipedia Dining Area. 
This hotel is made of pure salt called Uyuni Salt Flats (  Salar de Uyuni). This Bolivian hotel is located in Kolchanni the area in the world's largest  salt desert. The desert area is 10580 square Km. It is believed that 40000 years earlier there was a large lake and is a tourist attraction today. There are deposits of 100 billion tons of salt of which 25000 tons is mined yearly.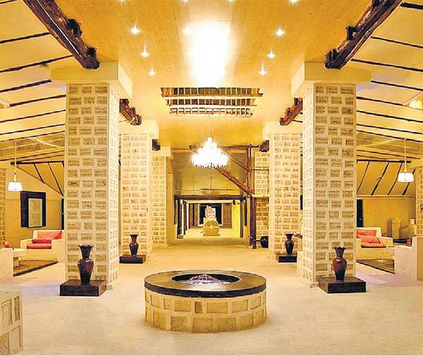 Source: Dainik Bhaskar