What is Free Kitchen (Langar ) and its story?
Langar is the free kitchen where food gets served in a Gurdwara hall. The practice of the langar, or free kitchen, is thought to have been started by the first Sikh Guru, Guru Nanak. The food is served to satisfy the hunger being the fundamental need of all. Only vegetarian food gets served.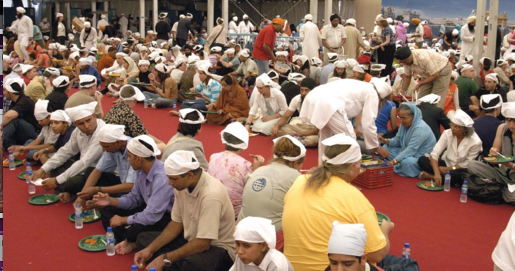 Photo Credit: Wikipedia –Langar service at the Gurdwara
Principle:
At the Langar (Kitchen), food is served to all visitors despite faith, religion or background. It is meant to uphold the policy of balance among all people of different faith, position, appearance, belief, age, gender or political status, a revolutionary concept in the caste-ordered society of 16th-century of India.
Photo Credit: Wikipedia –Langar house at Harminder Sahib, Amritsar
Benefits: Langar gets distributed where people of various backgrounds meet.  It teaches practically to learn exactly how to participate and help others. Some members cook others, serve or distribute the cooked meal, still, the others clean utensils and manage the premises by periodically the food spilled over on the floor after each session of about 20-30 minutes.
The Langar is meant to uphold the principle of balance among all people of the world regardless of belief, rank, colour, faith, age, gender or political and cultural status; to eliminate extreme poverty in the world and to bring about the birth of "caring communities". Also, to the ideals of equality, the tradition of Langar expresses the ethics of giving, society, inclusiveness and indivisibility of all humankind. "..the Light of God is in all hearts."
Before serving the langar, the traditional chanting the name of God(Waheguru) infuses a feeling of purity and oneness of the universe. If everyone shared these values, we would live in a tolerant and peaceful world.
Photo credit: Wikipedia  — Volunteers preparing langar