Microsoft, the giant of Information Technology, has applied to the Government of India, to participate in the Government's program of building 100 smart cities. It wants to share its information and techniques on making these cities and also it wants to join as a partner in the program of e-governance plus share in other technical plans.
 The Government of India has disclosed that Microsoft's CEO Satya Nadella will shortly meet the Minister of Communications and Information Ravi Shanker Prasad, in this regard. Microsoft has shown interest in IT connectivity at the level of each village. The Company has already done such works both in Singapore and Africa. It has shown interest in sharing in their Cloud system for e-governance. The data of e-governance gets securely stored in that system. At the same time, Microsoft wants to get into manufacturing sector for the business.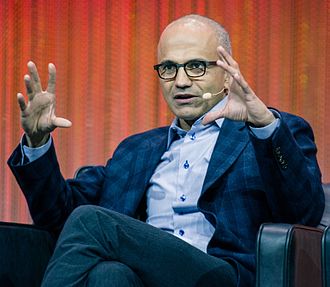 Photo: Wikipedia – CEO Of Microsoft Satya Nadella
Recently, CEO Satya Nadella shared his story of self-confidence. He as the CEO has an old relationship with the city of Hyderabad, India where he was brought up. He admitted that his self-confidence got built up due to this city. He explained that as a young cricket school player, the team skipper put faith in him to go ahead and bowl. His self-confidence got boosted when the team captain put the trust in him. In a game, he was initially an expensive bowler and gave away many runs. Later in the game he got wickets due to the confidence placed in him. The built up confidence has continued in life so that he could reach where he is today as the CEO of Microsoft.